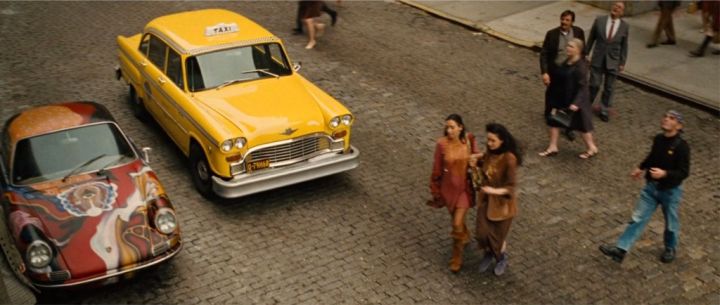 Across the Universe is a great Beatles centric film. The characters, settings, and themes are all based off of Beatles tunes, many of which are sung in the film. The story they tell is a traditional one, the main character goes into the military via the draft, and he's always in pursuit of his true love. It wasn't my favorite film but I do give them props to the creativity it took to pull everything together through the Beatles library.
What I didn't notice until now is that they also worked in a famous Porsche, that of Janis Joplin. Obviously it's a replica, might have even been a photoshopped work but it's great that they kept it traditional to the time frame. I really like the colors and how it's just parked on the side of the road, just like the stories mention. It's nice that the two characters in the middle of the road sort of match the car, it draws the colors across the image and balances the bright taxi.
This Porsche is just a prop, but a very cool one. I'm glad they worked in this bit and I'll have to see if I can spot it the next time I see the film. A very nice nod to the time period, the people, and the music. Most of the characters walk or ride public transportation in the film, or a friend's car if I remember correctly, so it really took an extra effort to put her car on the curb. I think it's a great touch and nod to her, and of course to her Porsche.
SOURCE